Chasing Spring – 8 Of The Best Cherry Blossom Tours and Attractions
It's spring once again and one of the most anticipated activities during this season is the blooming of the cherry blossoms. Below is a list of the 8 best cherry blossoms tours and attractions from 3 different countries, South Korea, Japan and Taiwan.
Kyoto Arashiyama Sagano Train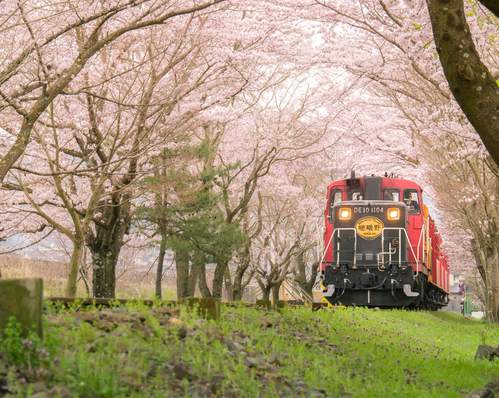 Conveniently pick up your Sagano Train ticket in central Osaka in advance and prepare to board this romantic train ride near Kyoto from Kameoka Station. Your ticket will be valid for a one way trip from Kameoka Station to Saga Station (you can also book a return journey separately) in which you will be taken through one of the most scenic routes in Japan. During this 25 minute ride, expect to see a snowy wonderland in winter, a landscape cloaked with maple trees in fall, luscious green panoramas in summer, and of course, spectacular cherry blossom trees in full bloom in spring.
Check out Kyoto Arashiyama Sagano Train deal here.
Seoul Departure Busan Jinhae Cherry Blossom Festival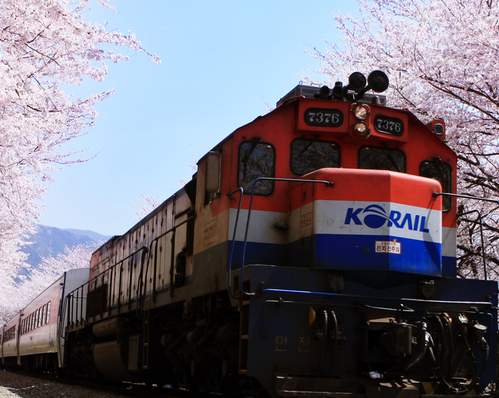 Though initially celebrated to commemorate the achievements of Admiral Yi Sun Shin during the Imjin War, the country's Cherry Blossom Festival, Jinhae Gunhangje, has become one of the largest tourist attractions, attracting more than two million visitors every year. Get a chance to witness the spectacular beauty of South Korea's beloved cherry blossom trees with this one day tour to Jinhae from Seoul! Choose from two different tour buses: a 45-seater tour bus with standard accommodation, or upgrade to the Klook-exclusive 20-seater VIP bus for luxurious accommodations with bigger seats. Meet up with your tour group at either Seoul Station or Myeongdong Station, then head directly to Jinhae, where the festival will be held.
Check out Seoul Departure Busan Jinhae Cherry Blossom Festival deal here.
Seoul Cherry Blossom Chasing Tour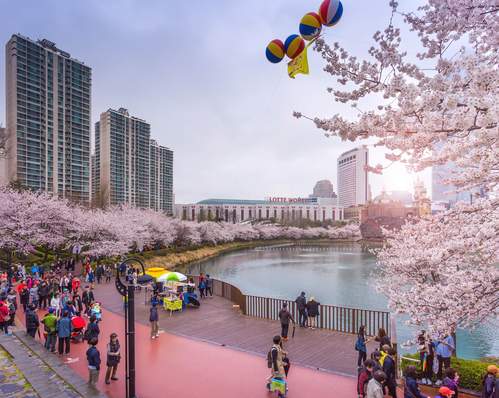 Enjoy one of Korea's most beautiful festivals – Cherry Blossom Festival – and watch the country's most beautiful cherry blossom trees spring into color. The Cherry Blossom Random Box Tour lets you keep your options open and your guides will choose the best cherry blossom viewing spots the day of the event. This way, you are sure to get not only the best cherry blossom experience, but also have the best photo opportunities. Travel to the beautiful mountainous province of Gangwon, explore the culture of the ancient Chungcheong or visit Gyeonggi-do, the most populous province in South Korea.
Check out Seoul Cherry Blossom Chasing Tour deal here.
Kawaguchi-go Cherry Blossom Tour & Ropeway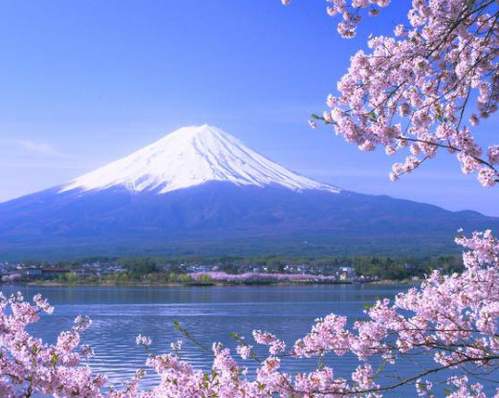 Two hours away from Tokyo, you'll find the incredible Mt. Fuji, an iconic pilgrimage site for tourists and locals alike. Though quite a distance from the city, there are a number of interesting activities that you can take part in on your way to the famous volcano! On this comprehensive day trip, not only will you find yourself at Mt. Fuji 5th Station, but you'll also make a stop at the Yamanashi Prefecture Sightseeing Orchard where you'll spend half an hour picking and eating as many fruits as you please. On the way, you'll also visit the Kawaguchi Lakeside Park where different beautiful flowers bloom depending on the season.
Check out Kawaguchi-go Cherry Blossom Tour & Ropeway deal here.
Busan Jinhae Cherry Blossom Tour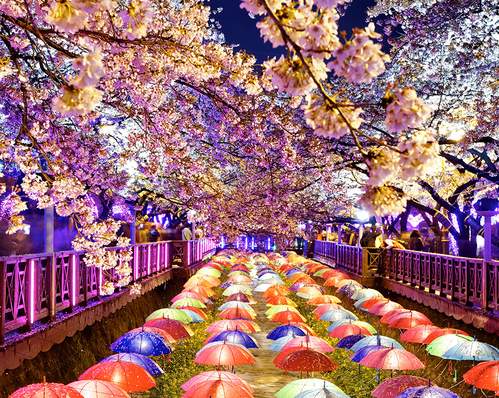 Travel to witness one of nature's most stunning shows – the Cherry Blossom Festival in Jinhae, South Korea. Every year, from late March to early April, Jinhae becomes the stage to a wonderful event and sees thousands of tourists flock to the city to witness the beautiful blossoms. Meet your guide in central Busan to board the coach to Jinhae for this Cherry Blossoms Tour, taking you to the best viewing spots in town including Korea's Naval Academy, Jinhae NFRDI Environment EcoPark, Yeojwacheon Stream & Romance, Zhungwon Rotary, Jehwangsan Park, Gyeonghwa Rail Station Bridge and more.
Check out Busan Jinhae Cherry Blossom Tour deal here.
Tokyo Cherry Blossom Parks Tour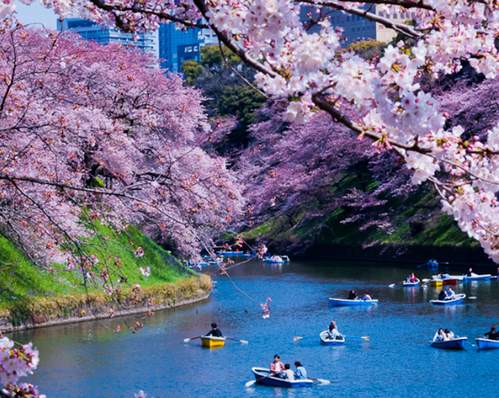 Millions of locals and travelers flock to Tokyo every year to see its famous cherry blossoms in full bloom during spring. This incredible, once-a-year season is a thrilling sight to behold: Hundreds of sakura trees all over tokyo are full of pale pink blossoms, fluttering in the air and waving on the branches. Enjoy this spring highlight in the best fashion with a visit to four of its most famous sites! From your meetup at Shinjuku Station West, you'll first head to Chidorigafuchi and Kitanomaru Park. Chidorigafuchi is breathtaking: just west of the Emperor's residence, there is a location known as the Sakura Corridor in Kitanomaru Park where over a thousand cherry trees burst into bloom, like a scene straight from a movie.
Check out the Tokyo Cherry Blossom Parks Tour deal here.
Mt. Fuji Kawaguchi-go Cherry Blossom Tour & Gotemba Outlets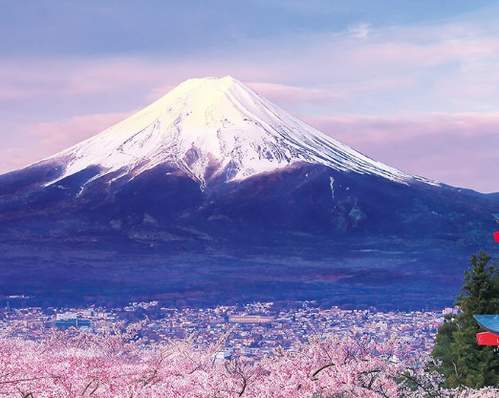 Cherry blossom season is one of the biggest tourism seasons in Japan for a good reason: hundreds of thousands of cherry trees burst into bloom, carpeting the cities in pale pink. This wonderful day tour gives you a great view of them and gives you a shopping opportunity to boot! From your selected pick up point, you will first head to the Arakura Sengen Shrine, which is found just by both Mount Arakura and in front of Mount Fuji. This location is famous for being a destination to view the beautiful cherry trees in full bloom. This is where those beautiful photographs of the shrine's pagoda rising among clouds of cherry blossoms come from, so don't forget to take your own breathtaking photo.
Check out the Mt. Fuji Kawaguchi-go Cherry Blossom Tour & Gotemba Outlets deal here.
Taiwan Yangmingshan Springtime Tour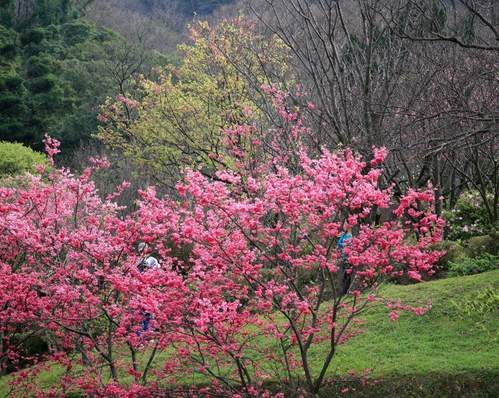 Located in the north of Beitou, Yangminshan is Taiwan's only park where you can marvel at volcanic geography and indulge in a hot spring bath. This 300-acre park, designed in the traditional Chinese style, invites you to enjoy a touch of tranquility and relaxation away from the city. Shamao Mountain offers visitors a scenic retreat for mind, body and soul. Set in spectacular forested surrounds, the volcanic geology of the area has sourced a number of hot springs, thought to contain many healing properties.
Check out the Taiwan Yangmingshan Springtime Tour deal here.